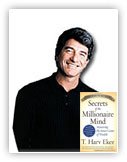 T. Harv Eker
Listen to Virtual Book Tour…
T. Harv Eker went from zero to millionaire in only two and a half years. He is President of Peak Potentials Training, one of the fastest growing success training companies in North America.
During this 1-hour Virtual Book Tour, Harv reveals the story behind his book, Secrets of The Millionaire Mind. The book's promise is "Mastering the Inner Game of Wealth".
Click here to add this book to your library.