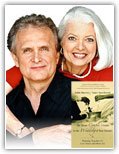 Judith Sherven
and Jim Sneichowski
Listen to Virtual Book Tour…
They have appeared on over 1000 television and talk-radio shows including, Oprah, The O'Reilly Factor, The View, 48 Hours, Canada AM, MSNBC, and CNN.
During this 1-hour Virtual Book Tour, Judith and Jim reveal the story behind their latest book, Smart Wedding Couples. The book's promise is: "Planning Together for Less Stress and More Joy".
Click here to add this book to your library.