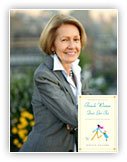 Mireille Guiliano
Listen to Virtual Book Tour…
As a typically slender French girl, Mireille went to America as an exchange student and came back fat. That shock sent her into an adolescent tailspin, until her kindly family physician, "Dr. Miracle," came to the rescue. Reintroducing her to classic principles of French gastronomy plus time-honored secrets of the local women, he helped her restore her shape and gave her a whole new understanding of food, drink, and life.
During this 1-hour Virtual Book Tour, Mireille explains the story behind her book, French Women Don't Get Fat. The book's promise is "The Secret of Eating For Pleasure".
Click here to add this book to your library.
Comments
comments
Powered by Facebook Comments