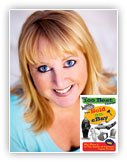 Lynn Dralle
Listen to Virtual Book Tour…
Lynn Dralle is a third-generation antiques dealer and an eBay PowerSeller who has sold up to $20,000 a month through online auctions. An award-winning author who has lectured around the country on how to buy and sell on eBay, she has appeared on national television and is the author of The 100 Best Things
I've Sold on eBay, the first book in this series, as well as iBuy
and iSell, auction-tracking notebook systems carried by eBay in their online store.
During this 1-hour Virtual Book Tour, Lynn reveals the story behind her book, The 100 Best Things I've Sold on EBay. The books promise is: My story – by the Queen of Auctions.
Click here to add this book to your library.
Comments
comments
Powered by Facebook Comments