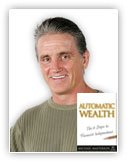 Michael Masterson
Listen to Virtual Book Tour…
Michael Masterson has developed a loyal following through his writings in Early To Rise, an e-newsletter published by Agora that mentors more than 400,000 success oriented individuals to help them achieve their financial goals.
During this Virtual Book Tour, Michael reveals the story behind his book, Automatic Wealth. The book's promise is: "The 6 Steps to Financial Independence".
Click here to add this book to your library.