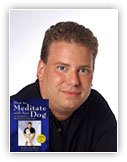 James Jacobson
Listen to Virtual Book Tour…
James Jacobson has spent the last 14 years meditating with his dog, Maui. He has taught introductory classes for newbies on the art of meditation. James is the president of Maui Media, LLC.
During this 1-hour Virtual Book Tour, James reveals the story behind his book, How to Meditate With Your Dog. The book's promise is "An Introduction to Meditation for Dog Lovers".
Click here to add this book to your library.
Comments
comments
Powered by Facebook Comments