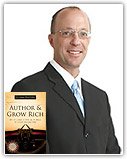 Glenn Dietzel
Listen to Virtual Book Tour…
Glenn Dietzel shares how to bring instant recognition and qualified leads. He delivers a system to showcase an author's expertise, passion to bring a flood of qualified leads, and gain instant credibility to quickly set them apart among their competitors.
During this 1-hour Virtual Book Tour, Glenn reveals the story behind his latest book, Author and Grow Rich. The book's promise is: "How to Write a Money-Making Book in Only 12 Hours!"
Click here to add this book to your library.
Comments
comments
Powered by Facebook Comments