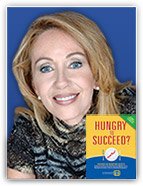 Tricia Ryan
Listen to Virtual Book Tour…
Tricia Ryan is author of Hungry to Succeed, a marketing resource full of ideas to help small business owners take their business to the next level. A unique approach that mixes smart marketing practices with tasty culinary advice.
Tricia is founder of The Marketing Chefs, an educational consulting group that provides traditional marketing mixes, new media blends and online strategies. Custom courses include: distance learning, one-on-one coaching, seminars and workshops.
During this 1-hour Virtual Book Tour, Tricia reveals the story behind her book, The Marketing Chefs. The book's promise is "Ideas to Nourish Your Small Business".
Click here to add this book to your library.
Comments
comments
Powered by Facebook Comments