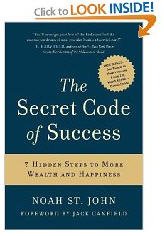 I have spectacular news if you're an author or infopreneur.
You now have the opportunity to experience the fastest, easiest and most economical way to sell truckloads of your books and info products – even if you're self-published – without spending a single penny more on advertising or promotional costs.
Sound like a pipe dream?  Hardly. In fact, I'm cordially inviting you – on this post – to experience this new marketing breakthrough I'm talking about during 4 weekly 90-minute tele-gatherings.
Your total investment for private phone access is to get ONE book available right now on Amazon, Barnes & Noble and Borders.
The book itself will be your Action Guide for each of the four tele-gatherings and its title is The Secret Code of Success written by my friend, Noah St. John.
I'll tell you more about the tele-gatherings in a moment, but first I want to introduce what this new book marketing concept is all about.
Question: What if you had free access to a new marketing paradigm that gives you more marketing control of the worldwide distribution of your book or info product?
Answer: It's now possible with a breakthrough marketing methodology called The Bookinar … and the repurposing power alone may soon make traditional book distribution methods obsolete!
Hands-down, this is the most elegant marketing strategy I've ever seen because the author eliminates the hassles of traveling on book tours or the stress of getting joint venture partners to mail for your Amazon book launches.
Gone are the days of favor-centered marketing.  I predict that the Bookinar is destined to be the lowest cost and most turbo-charged marketing method to sell more books or info products … even if you're starting from scratch.
All you need is a Message, a Mouth and a computer Mouse and you're ready to promote.  Oh yeah, you'll also need a low-cost phone conference service (bridgeline) such as InstantTeleWebcast.
Why spend month after month pounding the pavement or cold-calling bookstores hoping your book will make best-seller status.  The Bookinar provides you a dialogue-centered platform that's also ideal for Q/A.
Just think of the repurposing possibilities with a 4-module Bookinar like I'm doing with my friend, Noah St. John.  If you want to experience the world's first Bookinar, then all it takes are these 3 simple steps:
Step 1: Claim your copy of Noah's book from an online bookstore such as Amazon, Barnes & Noble or Borders.
Step 2: Go back to www.TheBookinar.com to type-in your Confirmation Number (purchase receipt #), Full Name and Primary Email … then click the Submit >> at the bottom.
Step 3: Once you hit the Submit >> button you will receive an email with special instructions to the Bookinar home page.  On that page, you will receive your Bookinar Action Guide and detailed information on how to make this a rewarding experience.
Share the The Bookinar experience on: February 5, 12, 19 & 26. (Online replays to each training call will be available to anyone who can't make one or more of the live tele-gatherings.
Please participate and be sure you invite a friend or accountability partner to experience this new and unique method of learning.
Comments
comments
Powered by Facebook Comments