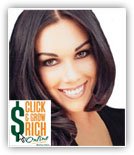 Maritza Parra
Listen to the Replay…
Maritza Parra is an author, speaker and trainer who's passionate about helping people empower themselves and take their ideas out of their heads and turn them into products which is what she has done her whole life without really knowing it until a few years ago!
During this 1-hour Virtual Book Tour, Maritza tells the story behind her book, Click and Grow Rich Online. The book's promise is "13 Proven Success Principles to Make Money Online Now."
Click here to add this book to your library.
Comments
comments
Powered by Facebook Comments