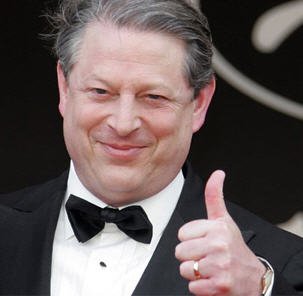 The specific incident I'm about to share with you took place on November 20th, 2002.  My life changed that night as did the lives of tens of thousands of other authors and info marketers.
It was warm autumn evening in Corte Madera, CA.  I was planning to meet a friend for dinner, but as I arrived at the restaurant the parking lot was packed.  I parked my car several blocks away and began walking toward the restaurant.
Across the walkway was the famous independent book store called Book Passage.  For some reason, it had a huge crowd standing outside the door that evening.
I asked a passer-by what was going on and she told me that "Al and Tipper Gore" were there for a book signing for their book, "Joined at the Heart".
It's not every day that a former vice president and his wife steps into my neighborhood, but my previous commitment influenced me to enter the restaurant and have dinner with my friend.
The entire time at dinner I was curious how for book signing was going for the Gores.  What questions they were answering, how many books they were selling and what their new book was about.
On the way back to my car after dinner, I ducked inside the book store — which was now emptying—and asked the woman behind the counter, "Hey, how many books did they sell?""Several hundred!"  was her reply.  Her answer shocked me and here's why:
Al Gore was the Vice President of the United States.  After being in office for eight years, now  he's dragging himself—and his wife—all over the country from bookstore to bookstore, airport to airport, hotel room to hotel room, pitching and pedaling to sell a few hundred books?!
"There MUST be a better way," I said to myself.  So as I drove home that evening the seed of an entirely new book and info marketing method was getting firmly planted in my mind.
As I pulled into my driveway at home the fog around the idea cleared and the concept of virtual book and info product promotion struck me like a shovel hitting my forehead :-)
At that moment, the Virtual Book Tour concept was born.
You can read more about this true story at www.VirtualBookTourSecrets.com and even check out some of the "info-taining" videos I've posted on the blog.
Here's my point: Back in 2002, there wasn't an "urgent" problem with the traditional book distribution model.   It was just a problem.  Many others and I knew the model was broken, but not yet obsolete.
Today the problem is URGENT.
If you're an author or info marketer and want to get the word out about your message, then traditional book and info marketing distribution is no longer the way.  It is obsolete and on its way to a slow death :-(
Amazon's Kindle, podcasting, YouTube and other media delivery sources are all contributing to the death of the 100+ year old book distribution model.
If you're a published author, you already know what I'm talking about.  Books don't sell like they used to.  If you're a "to be" author with a book still in your heart, consider this blog post a fair warning.
What To Do Now: Remember, your book or info product is NOT the message.  YOU are the message and your book is one more medium to make your ideal Message-to-Market match.
So think of yourself as a bicycle wheel hub and your Media (plural for medium) are spokes that lead to the wheel, which represents your Market (or target audience).
If you look at the model this way, then your book or info product respresents just one of many spokes.  Once you've identified your Message (with a big "M"), you next want to identify the different ways to repurpose your Message so you create more reach, faster better and easlier.
I have another blog post that may be interesting reading for you if you missed it the first time.  Click here to get to find and read it now. Your thoughts and comments will be most appreciated.
Comments
comments
Powered by Facebook Comments