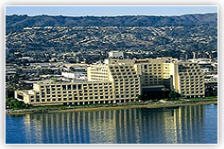 One of the most fundamental ways to stay united with your colleagues and friends is through the power of Reunions.
Unlike seminars or workshops, Reunion events are not episodic and thus create a greater sense of community and unity among the participants who attend.
(The picture on the upper left of this post is the SFO Marriott where I'm hosting my annual Teleseminarian Reunion this year – March 5th and 6th)
Click here if you're in a big hurry and watch the video now.
If you've ever thought of hosting a conference, workshop or seminar, think instead of tapping into the continuity power of what a Reunion can bring to you and your tribe.
Reunions can be held weekly with professional networking groups like what BNI members do throughout the world, or monthly with private mastermind groups.  They can even occur every 60 days such as CEO Space gatherings or annually such as my Teleseminarian Reunion … even every decade like high school reunions.
The time of year or frequency isn't as important as the gathering power that Reunions create. When I say gathering power, I mean building the sense of belonging or feeling of unity espoused by the members of your community.
And whether those communities are twenty or two-thousand members strong, there are 3 key advantages that Reunions participants have over attending episodic workshops or seminars.  These are the 3 unifying elements that espouse more social gathering power:
Unique language or vocabulary

Unique community or culture

Unique facilitation or leadership

If you're an entrepreneur, small business owner or independent professional with clients and colleagues in your industry, I encourage to think about and act upon hosting your own Reunion at least once a year.
Define who in your tribe is eligible to attend and then set a date each year, each month or each week you'll gather and connect with each other.
You can start small with an annual group meeting with your Facebook friends or fans of 25 to 50 people.  Many family reunions start this way.  Here are a few types professional reunions with which you've probably already attended:
National Conventions (annual or semi-annual)

Mastermind Groups (weekly or monthly)

Professional Networks (weekly or every 60 days)

Class Reunions (every 5 to 10 years)
If you're an information marketer like I am, I recommend an annual Reunion gathering so your students and clients can physically meet each other.
I hosted my first Teleseminarian Reunion back in 2007 and my life hasn't been the same ever since.  It takes place each March in San Francisco, CA.   It's a birthday present I give to myself and I keep it intimate to only 150 participants.
The donation is only $300 to cover my costs and all excess proceeds go to Kiva.org to help micro-fund entrepreneurs in developing nations.
The one thing that I believe that makes my Reunion unique is pre-training.  If you've ever paid for a Teleseminar event, virtual expo or tele0series from me, then you're eligible to attend my Reunion.
If you make your decision in time, be sure you check out and learn in the special pre-training audios and videos.  Click here to check them out now … even if you decide not to attend :-)
What To Do Now: Please comment and share your thoughts on this blog post or on my Facebook video page I've I've linked for you.  Tell me and others how you plan to add Reunions to your marketing mix.
Comments
comments
Powered by Facebook Comments