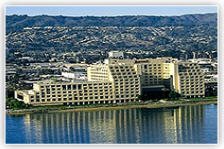 Do you realize that everything about marketing your business has changed in the last 12 months?
Have you noticed the advertising methods that you previously used to get customers simply aren't effective anymore?
The reason for this huge industry shakeup is that there's a revolution happening as buyers are changing their habits en masse in an unpredictable and unstoppable "uprising"!
There's a gigantic shift from radio, TV, magazines, and newspapers, to virtual word of mouth recommendation via websites like Facebook, LinkedIn, Twitter, and YouTube.
BAD NEWS! Are you aware that your business is in danger of DYING as your cutting edge competitors steal one customer at a time from you? This is serious business.
GOOD NEWS! We've 'cracked the code' and you're invited to 'steal' these secrets from us as we share them for the first time, in the 2011 Marketing Mastermind Reunion (MMR).

The MMR is an exclusive 2-day experiential marketing intensive that will be conducted on March 11th and 12th, in San Francisco, California and click here to find out if you're eligible to attend. (Event is strictly limited to the first 300 entrepreneurs who qualify).