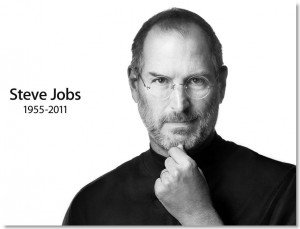 On Wednesday, October 5th, the world lost one of the greatest innovators it has ever known.  Please comment and share after reading this summary so we can both pay homage to the man whom I believe made a bigger impact on humanity than Bell, Edison, Curie, Ford and Disney combined.
Steve Jobs launched Apple with Steve Wozniak in 1976.  They decided to name the company after the fruit that allegedly inspired Isaac Newton's theory of gravity.
From that moment onward, Steve Jobs battled against the gravitational pull of corporate politics, vicious competitors, retail distribution and ill health.
James Humes once said, "The art of communication is the language of leadership."  And so as a great communicator and leader, here are a few of Steve Jobs' accomplishments:
An early accomplishment was to bring on venture capitalist Mike Markkula and appointed him CEO of Apple.  He also had the foresight to hire Regis McKenna – the best PR guy in Silicon Valley – to market Apple II.
A firm believer in attracting great talent, he sought the best minds and mentors he could find to take Apple public in 1980.  The day Apple went public, Jobs' net worth catapulted to over $217 million.
During the late 1980s, IBM led the PC manufacturers into the Microsoft-driven war against Apple.  Yet the young, persistent Jobs insisted that Apple bundle its software and hardware as one package, which consequently prevented his company's core brand from being distinguished as a software or hardware company.
Within a few years, the PC divisions of both IBM and Microsoft eclipsed Apple's market share and in 1985, Steve was thrown out of the company he started just nine years earlier.
Most multi-millionaire entrepreneurs would have retired at this point, but not Steve Jobs.  Soon after he was fired by his Board of Directors, Jobs went on to launch NeXt and found himself in a messy lawsuit with Apple.
In 1995, he sold all but one of his Apple shares as the company's market share quickly eroded from 20% to 5%.  That same year, film maker George Lucas owned a small computer animation company which he put up for sale.
After Disney rejected to buy 50% of Lucas' company for $15 million; and, once billionaire Ross Perot's $30 million deal fell through, Jobs negotiated to buy the animation company from Lucas for less than $10 million.
Jobs kept 92% of the company's shares for himself, with 8% going to the other two founders, Alvyn Ray Smith and Ed Catmull.  The company was renamed, Pixar.  In 1996, Pixar launched Toy Story in theaters worldwide which became the highest grossing movie of the year generating over $450 million!
That same year, Apple CEO Gil Emilio was searching for a new operating system and approached Jobs about NeXt.  Jobs insisted on selling the entire company which Apple eventually bought for $388 million in cash and $1.5 million in Apple shares.
In 1997, Apple's annual revenue was $7 billion but the company was hemorrhaging with over $1 billion in losses!  Jobs took on the challenge to revitalize the company he created 19 years earlier and became its first "interim-CEO."
Within a year, he launched the mega-successful iMac.
The iMac helped Apple gobble up double-digit market share and put the company back into the minds of consumers.  A few years later, Jobs led the charge with a dynamic duo of  innovations – the iPod and iTunes – changing the music and entertainment industries forever.
The iPod made listening to music portable and convenient, while iTunes democratized the music industry as consumers could buy songs a la carte and make their own play lists. The strategic alliances Steve Jobs with iPod and iTunes gave him the marketing and financial leverage to help fund the meteoric rise of the iPhone and iPad.
By 2005, Apple reached a record level annual sales of $14 billion and Jobs' net worth was $4 billion.  In 2007, Apple reported $24 billion in annual sales with 26% coming from iPod sales alone!
Just 3 years later, Apple's annual sales soared to $63.5 billion with reported sales of 300 million iPods worldwide.
On Wednesday, October 5th (2011), Apple lost its visionary creative genius and the world lost an amazing entrepreneur. Steve Jobs leaves behind the company that only he could have built. His spirit will be indelibly etched into the Apple brand and in the minds of loyal Apple customers.
Please comment and share your thoughts.
Comments
comments
Powered by Facebook Comments