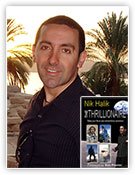 Nik Halik
Listen to Virtual Book Tour…
Nik Halik is the founder and CEO of Financial Freedom
Institute, Money Masters Global, and co-founder of The Intelligence Group of Companies.
In this 1-hour Virtual Book Tour, Nik tells the story behind his book, The Thrillionaire. The book's promise is "To Make Your Life an Epic and Extraordinary Adventure".
Click here to add this book to your library.
Comments
comments
Powered by Facebook Comments