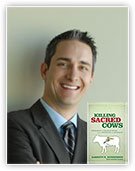 Garrett B. Gunderson
Listen to Virtual Book Tour…
Garrett B. Gunderson is an entrepreneur who became a multi-millionaire at age 26. He is the owner of 5 companies and winner of the SBA Young Entrepreneur of the Year. He claims that 401Ks are a hoax!
During this one-hour Virtual Book Tour, Garrett tells the story behind his book, Killing Sacred Cows.
The book's promise is "Overcome the 9 Financial Myths that are Destroying Your Prosperity".
Click here to add this book to your library.
Comments
comments
Powered by Facebook Comments