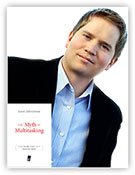 Dave Crenshaw
Listen to the Replay…
Dave Crenshaw is now a best-selling author who
wrote this book for entrepreneurs and independent
pros who want to get more done, faster, easier.
During this 60-minute Virtual Book Tour, Dave
reveals why "multi-tasking" is a destructive
force to anyone's workday and how to avoid it.
He also talks about sections of his book such as, "The Lie," "The Exercise,"
"The Truth" and the "The Deal"… just to name a few.
Click here to add this book to your library.
Comments
comments
Powered by Facebook Comments