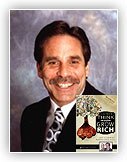 Ted Ciuba
Listen to Virtual Book Tour…
Ted Ciuba is a successful direct response marketer and copywriter, on and off the internet. He has specialized in using the Internet and other modern tools of technology, to run his extremely successful mail-order business.
During this 1 hour Virtual Book Tour, Ted reveals the story behind his latest book, The New Think & Grow Rich. The book's promise is "An Unauthorized Re-Presentation of Napoleon Hill's Success Classic".
Click here to add this book to your library.
Comments
comments
Powered by Facebook Comments