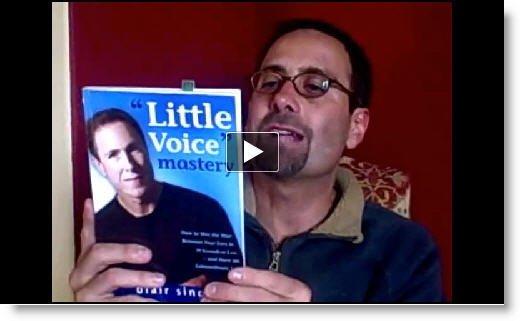 I have no idea if you and I have ever met, but I do feel I know these two things about you:
1)  You have a "Little Voice" deep inside of you

2) That "Little Voice" doesn't always support you
It doesn't matter if your business is booming, or if it's on life support, your "Little Voice" inside is typically the unseen force that drives you to success or failure in everything you do or don't do.
Click here to see the Little Voice video if you're in a hurry.
Let me explain: For the past three decades, my colleague Blair Singer has carefully studied, learned, taught and mastered the secret to winning the war between the ears in 30 seconds or less – and enjoy an extraordinary life.
Let me say that again so it really sinks in …"How to Win the War Between Your Ears in 30 seconds or Less – and Have an Extraordinary Life!" is the subtitle of Blair's newest book, Little Voice Mastery.
His book's subtitle is also the promise that he and I intend to keep if you, and nine of your friends, decide to join us for our Little Voice Bookinar Series that starts soon.  What I'm talking about here is an unprecedented and remarkable Buy 1, Get 9 Free special offer!
So if you're an entrepreneur, independent professional or small business owner, then I want to discover Blair's simple, yet incredibly powerful strategies you can start using immediately to…
Maintain your power in any pressure situation
Stop the debilitating chatter in your mind
Uncover and realize your lifelong dreams easier
Build powerful and lasting confidence faster
Resurrect and rebuild the "hero" inside of you
Embody 21 proven reprogramming techniques
… then click here to get registered for the LVM Bookinar Series … and if you're not ready to do that yet, then click here to register and listen to our LVM Private Coaching Call.
Key Point: "LVM" stands for Little Voice Mastery.  My premise is this:  Once you master your Little Voice inside, mastering other parts of your personal and professional life becomes a walk-in-the-park!
If you don't make the private coaching call  on Tuesday, January 26th, get registered anyway because a free replay will be available 24 hours after the broadcast date.
(This training is so important, Robert Kiyosaki has even tossed in a surprise bonus gift!)
What To Do Now: Even if the LVM Bookinar Series or LVM Coaching Call don't have an immediate interest for you, please comment and share on the LVM Video on my Facebook Fan Page.
Comments
comments
Powered by Facebook Comments