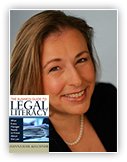 Hanna Hasl-Kelchner
Listen to the Replay…
Hanna Hasl-Kelchner is a corporate lawyer whose career spans private, government, and in-house practice. She is a former adjunct professor at Duke University Fuqua School of Business where she taught Legal Leverage to executive MBA studnets.
During this 60-minute Virtual Book Tour, Hanna reveals what every manager and small business owner should know about the law.
If you're a small business owner or independent professional, the Business Guide to Legal Literacy belongs in your library so you can sidestep the legal landmines that can transform your liabilities and risk into strategic opportunities.
Click here to add this book to your library.
Comments
comments
Powered by Facebook Comments