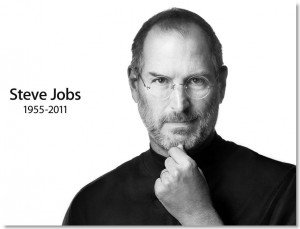 On Wednesday, October 5th, the world lost one of the greatest innovators it has ever known.  Please comment and share after reading this summary so we can both pay homage to the man whom I believe made a bigger impact on humanity than Bell, Edison, Curie, Ford and Disney combined.
Steve Jobs launched Apple with Steve Wozniak in 1976.  They decided to name the company after the fruit that allegedly inspired Isaac Newton's theory of gravity.
From that moment onward, Steve Jobs battled against the gravitational pull of corporate politics, vicious competitors, retail distribution and ill health.
James Humes once said, "The art of communication is the language of leadership."  And so as a great communicator and leader, here are a few of Steve Jobs' accomplishments:
An early accomplishment was to bring on venture capitalist Mike Markkula and appointed him CEO of Apple.  He also had the foresight to hire Regis McKenna – the best PR guy in Silicon Valley – to market Apple II.
A firm believer in attracting great talent, he sought the best minds and mentors he could find to take Apple public in 1980.  The day Apple went public, Jobs' net worth catapulted to over $217 million.
During the late 1980s, IBM led the PC manufacturers into the Microsoft-driven war against Apple.  Yet the young, persistent Jobs insisted [Read more…]